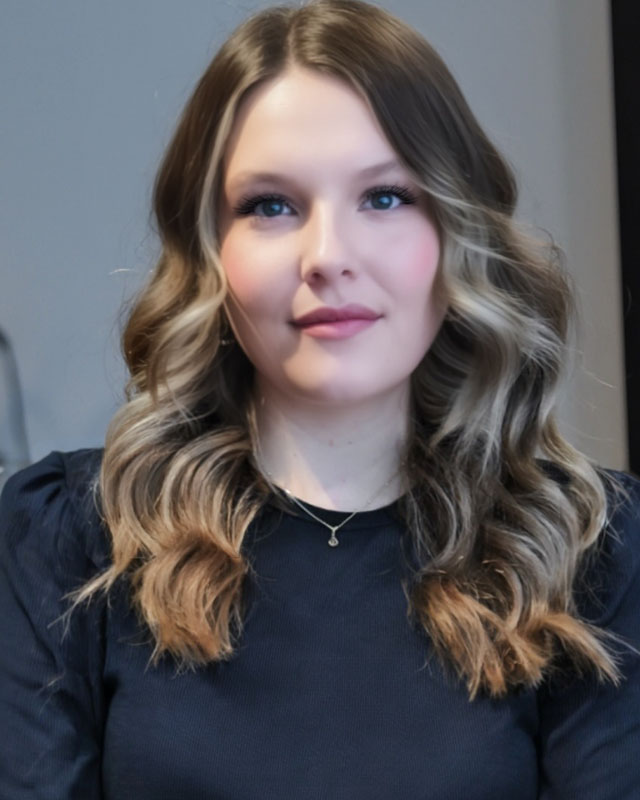 Joined the team in 2021

Brag:

Having my son while completing my cosmetology diploma and returning to school 3 weeks after having him and graduating with distinction

Favourite services: 

Blondes, dimensional brunettes, rich reds and big bouncy blowouts.

Who is your biggest professional inspiration?

My team and my clients, if it wasn't for them I wouldn't be where I am today.

What do you want to be known for in this industry?

A stylist that specializes in helping people reach their hair length goals, with focus on care, condition, and protection. Creating rich, shiny and dimensional palettes, my professionalism and always upgrading my education.

When I'm not behind the chair?

Exploring with my son Luca and spending time with family and friends.

Star sign?

Leo ♌

Celebrity crush?

Tom Hardy.

Obsessed with?

My son, exercise and spending time with loved ones.

Career highlight?

Applying for the ABA hair challenge, taking education from Mazella and Partners, and going to Contessa (Canadian hairstylist of the year awards) in Toronto.

Best advice I've been given?

Don't be afraid of being afraid. Sometimes the one thing you need for growth is the one thing you are most afraid to do.

Favourite quote?

"She is clothed in strength and dignity and she laughs without fear of the future."

What do you love about working at CLS?

My amazing co workers and team that I get to collaborate and be creative with everyday.